Every day, Milliken is driven to 'do good' in communities around the world. While our processes, products and people regularly influence lives spanning the globe, we are keenly aware of the opportunities to foster growth, promote sustainability and inspire excellence right in our own backyard.
Discover how our partnership with the Chapman Cultural Center has resulted in repurposing 20,000 feet of excess yarn from manufacturing floor covering, not only diverting waste from landfill, but also creating new agents of art inspiration throughout our headquarter community.
For many years, Milliken has partnered with the Chapman Cultural Center, supporting their efforts to assimilate arts into the Spartanburg community. We are repeatedly energized by the unique and creative ways their team seeks to develop arts, humanities and sciences in the lives of local residents.
Most recently, we joined forces with their organization to promote the integration of Artlets – designated public areas where residents can create music, draw, collaborate and connect around the arts – into Northside communities. The model is intended to create enriching opportunities for creativity and exploration to flourish.
"At Milliken, we know the critical role the arts play in fostering vibrant communities,"
said Stacy Walker, director of customer experience for the Milliken floor covering division. "Supporting the Artlets directly aligns with the impact we want Milliken to have in Spartanburg – to 'do good' and give back to the community who has helped us become the international company we are today."
The Milliken Atheneaeum, home to the floor covering division headquarters, in Spartanburg, SC. Photography by Eric Laignel.
Milliken donated 20,000 feet of excess yarn from our design group to support the initiative. Artist Eli Blasco, along with Youthbuild, used the leftover yarn to develop 36-inch site markers at three Artlet locations in Spartanburg. We are encouraged to see our materials used as new agents of inspiration.
"We've realigned our corporate giving initiatives to cultivate a lively, dynamic downtown Spartanburg," added Walker. "Today, we realize that the results are more than we could have imagined. Seeing the donated yarns repurposed from their original intent and upcycled into another form of art to be appreciated by a much larger audience enhances our spirit and delights the entire Milliken team."
Artist Eli Blasko holding Artlet site markers alongside Chapman Cultural Center President and CEO Jennifer Evins
We are inspired and honored to experience first-hand the vision of the Chapman Cultural Center and Eli Blasko come to life.
"Art and the creative process provide each of us tools for problem solving; whether for the development of new innovations that change the health and well-being of the world or enable a community to build imaginative and motivating places for its citizens to thrive," said Walker. "I'm confident the Artlets will have the same effect on inspiring and educating all of us in Spartanburg."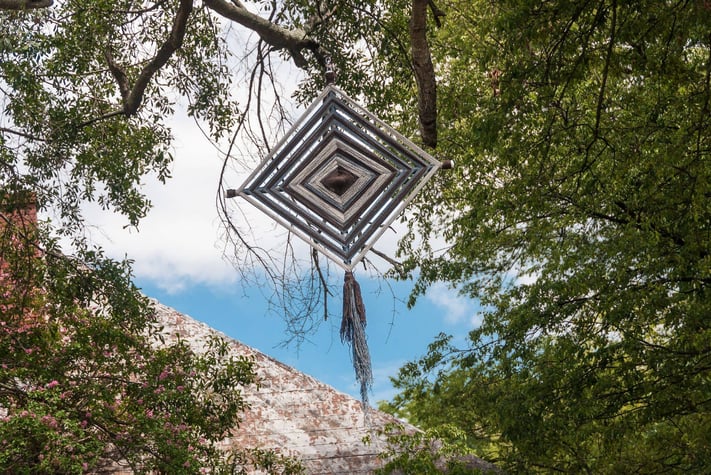 This article originally appeared on the Milliken Innovation Blog.